Tingley History
Tingley was incorporated in 1883, however it's roots go back much further to 1856 when the town's namesake, William Tingley Cornwall, arrived with his family as an 11 year old boy in the rolling hills of southern Iowa. In 1867, a post office in the home of Tingley Cornwall was established in southern Union County, just north of the Ringgold County line (this was the current location of the Cornwall Cemetery and the Haight farm). The outpost was first named Silver Street but the name was rejected by the Post Office Department because there was another office in Iowa that had already claimed that name. A fellow pioneer, Edgar Sheldon, suggested Mr. Cornwall use his own name, "Tingley." That name was accepted and Tingley Cornwall was appointed postmaster. A year later in 1868 a stage line was established from Afton to Mount Ayr, making Edgar Sheldon's home (approximate present day location of 2599 Ringgold-Union Street) a halfway point and thus the post office was moved there in Ringgold County.

In 1881, the Burlington and Wabash companies bought 200 acres of land from the Avenill brothers, F.W. Harding and George Swain in Section 21 of Tingley Township. This was the location where the Humeston and Shenandoah railroad was being built and soon the village of Tingley sprang up around the new railroad. The railroad began operating in the spring of 1882 and Tingley was incorporated in 1883 with population of 200 people.
Postcard of Main Street in Tingley about 1910
It's part of history, but it has it's own page: The 1983 Tingley Centennial Cookbook!
Tingley Vindicator
The Tingley Vindicator began publishing a newspaper in 1889 and ceased publication in 1948.
In 2016, Tony Mercer began a project to digitize all available copies of the Tingley Vindicator and make them available to public at no cost.
With the help of the city council, this goal was completed in April 2017 and now issues of the Vindicator from 1903-1948 can be viewed at this website:
http://tingley.advantage-preservation.com
Pictorial History of the Tingley School and Students
To celebrate the United States bicentennial, the Tingley Alumni Association published a 44 page booklet
containing many photographs of from the Tingley School and the students who attended there over the years.
This booklet has been scanned in high resolution and available here in PDF format.
The PDF is a large file (over 135 MB); slower internet connections will have trouble viewing this file.
Thanks to Darwin Campbell who has provided a smaller (12 MB) lower resolution version if you have a slower connection.
Click on the picture below or this link to view the high resolution PDF.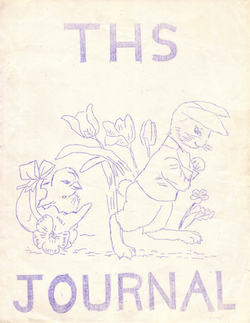 Tingley Centennial Book
To celebrate the town's Centennial (1883-1983) a History Committee was formed to publish a history of the town.
The Tingley Centennial History Committee:
Wayne A. Overholtzer, Co-Chairperson
Mary Sue McIntosh, Co-Chairperson
Merlin Wilkins
Margaret Eighme
Mary Overholtzer
Doris England
Eloise Brown
Mary Shields
Sue Wood
Evelyn England
Alice Allen
Viennn Richards
Georgia Etta Kinne
Clara Mae Bird
Mildred Boyd
This Cenetnnial book, sometimes referred to as the "Tingley Bible", was a massive undertaking. The Tingley Vindicator was used for much of the history; personal accounts were also inlcuded. Many old pictures were contributed, the majority being provided by Clair Heyer. Well over 400 pages, there are 3 parts to the book.

The first part covers the history of the town beginning in 1854 with the earliest settlers through the towns incorporation in 1883 and concluding in 1983.

Part two includes genealogies of all families from and around Tingley starting with the earliest settlers. People were encouraged to submit a few paragraphs and photographs about their families.

Part three features memorials and advertising to help pay for the cost of publishing.

This book has been scanned as a PDF and broken into 3 parts for easier viewing.
Please be aware that Parts 1 & 2 are large files and may be difficult to view with a slow internet connection.

Part 1 - History of Tingley (file size: 87 MB)
Part 2 - Genealogies of Tingley (file size: 96 MB)
Part 3 - Memorials and Advertising (file size: 7 MB)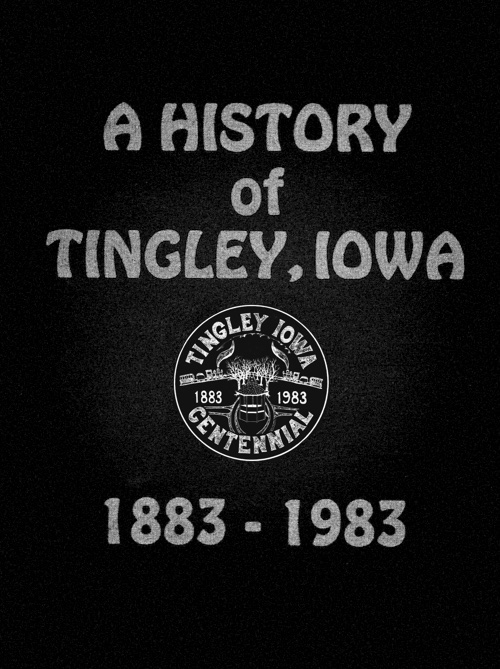 Centennial History of the Tingley United Methodist Church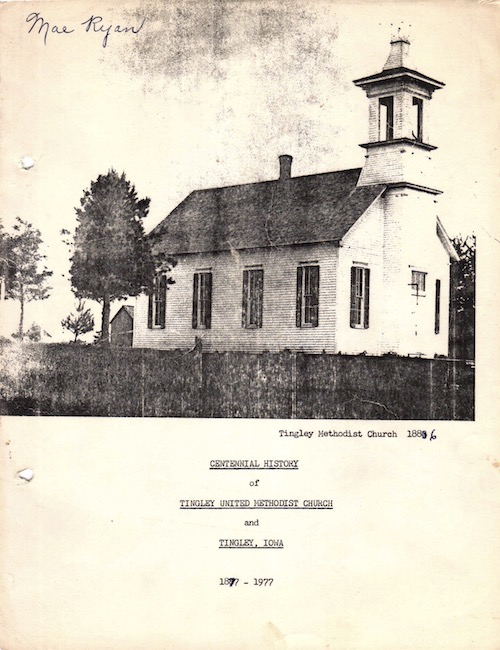 32 page booklet produced to commemorate the centennial of the Methodist Church (1877-1977)
Centennial History of the Tingley United Methodist Church
PDF size 12.7 MB