Tingley City Council Meetings
First Monday of the month

Tingley Community Building
Next meeting: Monday June 6, 2022
Ice Cream Workshop May 22, 2022 1:00 PM at McFarland's garage (east end of Tingley)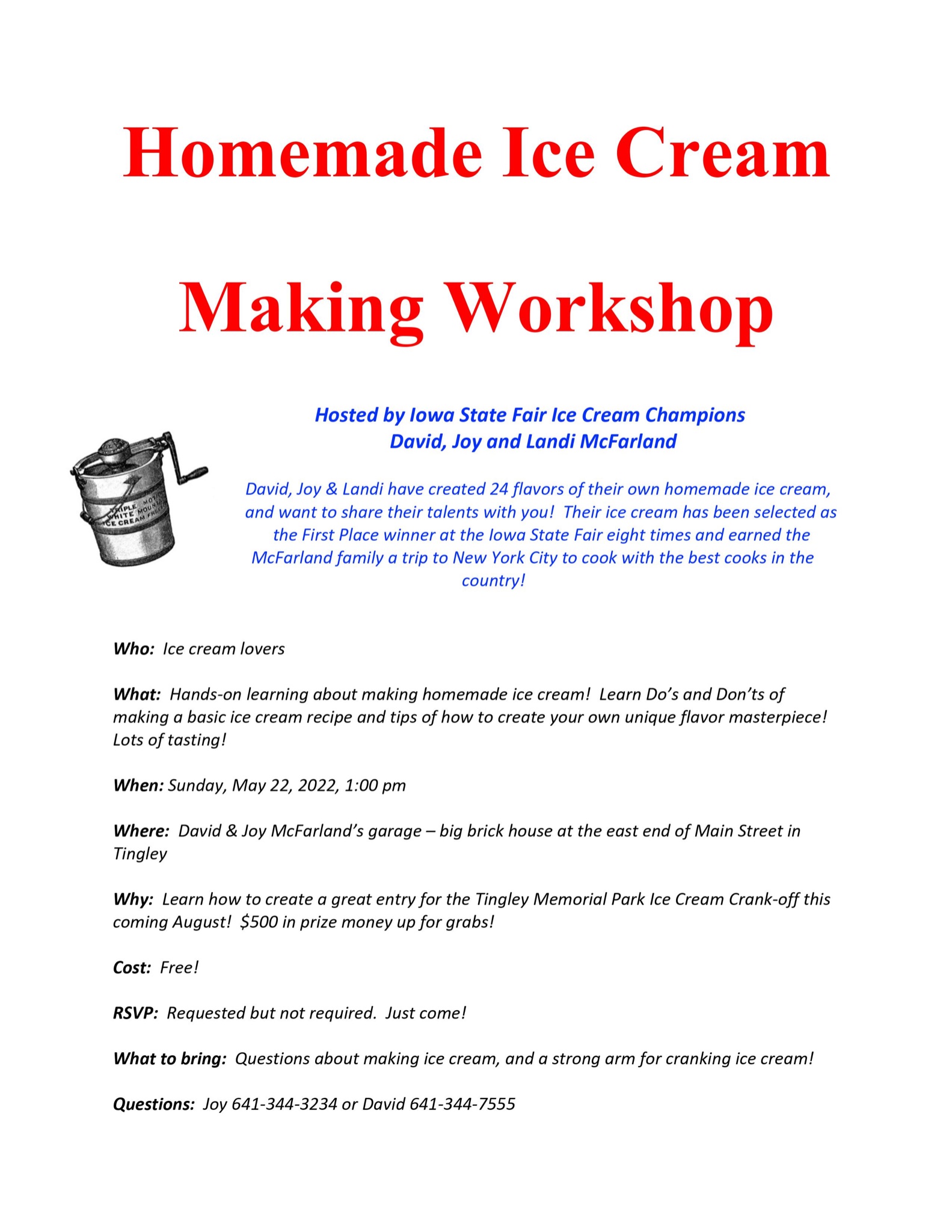 Editors Correction: Tingley News Volume 1, Issue 4
Our apologies to Wagon Wheel Café for the printing error omission of the café Monday hours.
The Wagon Wheel Café does have their regular hours of: Monday - 6:30 a.m. - 1:30 p.m. and
Monday evening Dinner from 5-7p.m beginning March extending through November.
Our apologies to Wagon Wheel Café for the printing error.
Road Trip Ringgold!
Saturday, June 4th, beginning at 9am. Maps will be available to discover the hidden treasures of Ringgold County, taking you through small towns of Ringgold County. The town of Tingley is participating in this vendor show. There will be a meeting Wednesday, March 23rd at 5:15 p.m. at the Community Building for any resident of Tingley interested in participating as a vendor or putting on a garage sale. Jodie Geist will be chairing the meeting.
Easter Egg Hunt!
Saturday, April 16th, 2pm! Meet at the Community Building Rain or Shine.
Sponsored by the Tingley Lions Club
Tingley's Annual Ice Cream Social August 28th!
The Memorial Park Committee will be hosting the 3rd Annual Ice Cream Social, Sunday, August 28th, from 3~7pm.
In addition to the judged homemade ice cream contest, lunch will again be available through the Cattlemen's Association.
Show & Shine: Antique cars, motorcycles, cars, and tractors will be on display, along with Ringgold County's Ranger Kate, who will provide an event for the kids.
New this year will be a Pie Baking Contest! Music will be provided by The Briggs Family Blue Grass Band. Plan for fun!

Tingley's Annual Halloween Fest at the end of October


In Case You Missed It